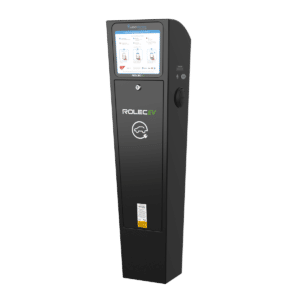 We're approved Rolec EV Charge Point Installers
The AUTOCHARGE: EV is a heavy-duty, hard-wearing EV charging pedestal, specifically designed and manufactured for both commercial and public-facing environments.
These versatile future-proof pedestals are available in a low-cost free-to-charge format, or with OCPP back office compatibility via the EV OPENCHARGE range, allowing for a pay-to-charge solution using the EV driver's smartphone and/or via authorise-to-charge RFID card/fob.
Compatible with all EVs/PHEVs, the AUTOCHARGE: EV provides Mode 3 fast charging in both 3.6kW and 7.2kW, as well as SuperFast 11kW and 22kW speeds.
---
With over 10 years of experience in the EV industry, Rolec has designed, manufactured and installed electric vehicle charging points across some of the most renowned locations amongst numerous industries.
From EV charging solutions for the home, commercial locations, workplaces and fleets, Rolec EV provides an exceptional service led by a team of dedicated experts. Whilst offering the UK's largest range of AC Fast and DC Rapid charging points, Rolec has the reputation for delivering cost-effective, scalable solutions to suit all budgets and requirements.
The extensive range of Rolec EV charging points has proven to be a success amongst many businesses and organisations, with thousands opting for Rolec's smart OCPP compliant back-office management system.
Rolec also manufactures a vast range of OZEV grant-funded charging points, allowing both EV drivers and businesses to take advantage of significant cost savings when purchasing and installing EV charging points at their homes and workplaces.
---
We can combine solar energy with our electric vehicle charging installation.
Want lower running costs when it comes to your electric vehicle?
Photovoltaic power (Solar PV) generated at your residence or business can be a beautiful thing, and it amplifies the reason for an electric car, as it's like getting free fuel when you charge at home or office plus the environmental benefits here are also off the charts!
We install special units that send the surplus energy from your Solar PV installation to charge the EV, therefore, giving you free fuel for your car, or getting the electricity for free. You could also sell this to people charging their EV's and enhance your return on investment.