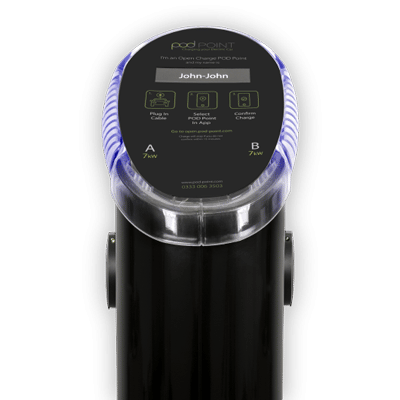 We're approved PodPoint EV Charger Installers
At MTG, we are qualified to install an approved PodPoint EV Charger. With Pod Point's Commercial Charging solution you can…
Increase footfall and revenue.
Evolve your business in line with EV adoption.
Make data-driven decisions with ChargePoint usage insights.
Create a loyal customer base.
Use flexible pricing models that suit your business requirements.
---
Pod Point are one of the UK's leading providers of electric vehicle charging. Since forming in 2009, we have manufactured and sold over 100,000 charging points across the UK and Norway. We've also developed an extensive public network connecting EV drivers with 4,400+ charging bays at locations including Tesco, Lidl and Center Parcs.
We install smart home charging points for customers of major automotive brands including Audi, Nissan, Volkswagen and Hyundai while our Workplace and Fleet customers include countless high profile companies like Skanska, Mitie and Pepsico. We also work with top property developers and managers like Barratt Homes, Savills and Bellway to wire up their developments.
Through our network of the home, workplace and public charging points, we have already powered over 532 million miles of electric driving.
---
We can combine solar energy with our electric vehicle charging installation.
Want lower running costs when it comes to your electric vehicle?
Photovoltaic power (Solar PV) generated at your residence or business can be a beautiful thing, and it amplifies the reason for an electric car, as it's like getting free fuel when you charge at home or office plus the environmental benefits here are also off the charts!
We install special units that send the surplus energy from your Solar PV installation to charge the EV, therefore, giving you free fuel for your car, or getting the electricity for free. You could also sell this to people charging their EV's and enhance your return on investment.